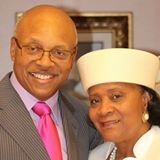 Pastor-Superintendent Dr. John W. Penton
First Lady- Missionary Linda Penton
Greater Heights COGIC
4819 South 12th Street
Tacoma, WA 98405
t. (253) 627-1615
f. (253) 627-1847

The Church at Work
Greater Heights was recently called upon to partnership with DeLong Elementary School to provide needed supplies and backpacks for kids in the immediate community. Evangelist Debbie Kennedy and her team accepted the task and met the need of 125 students. Thank you!

We extend our thanks and blessings to Sister Sherrilla Bivens- Henderson and the Street Ministry for all you do.

Special thanks to the Elders Council, Health Ministry, Ushers, Missionaries and members who recently ministered to the Michael Jefferson family during the Memorial service which was our first exercise in social distancing wearing our mask. Thanks to the Brown family who made sure that the church was clean and in compliance.

Thanks Sister Veronica for keeping us "linked" with the weekly "Word" from our Pastor. God is Good!